The Rad Rammstein Page
"Wir teilen Zimmer und das Bett"
---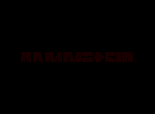 Rammstein is a awsome German band. They were featured on the Lost Highway soundtrack, and have since appeared on the Mortal Kombat soundtrack and a few others. Their latest CD Sehnsucht is one of the best musical works I have ever owned. All their songs are in German but there are a couple of songs with English Versions on the CD. Go Buy This Right Now.!!!!
---
Here is some Rammstein Guitar and Bass Tab:

- Du Hast
- Engel
- Heirate Mich
- Asche Zu Asche
- Der Meister

---
Here are some Rammstein movie clips (they are zipped for shorter download time):

- Rammstein: 7.73 sec.
- Not sure what song, but it's a damn cool clip: 8.03 sec.
- Here is a good example why you shouldn't play with matches: 13.33 sec.

---
Here are some Rammstein Links:

- Rammstein Offical Page
- Here is one of the best Rammstein pages I've seen
- Unoffical Rammstein Page, good for pics
- Another good Unoffical Rammstein site
- Here is a list of all the Rammstein pages on the net

---
If you like Rammstein check out TMC

Order Rammstein from CDnow!!!

---

Back